Armitage, Frank Benjamin was born in 1864 in Wisconsin, United States in a Seventh Day Adventist family. He went to school at Battle Creek College. Armitage married, in 1884, Annie Olson, the sister of Ole Andres Olsen, the eight president of the General Conference.
In 1897, the Armitages arrived at Solusi as part of the second bunch of the missionaries sent to work there. On the month of their arrival, the group at the mission became a little worried as to their whereabouts as they had taken longer than the expected time to get to the mission. After a few weeks news came into the mission that a missionary couple had been spotted travelling by donkey carts. Elder G.B Tripp and Elder W.H Anderson immediately set out to meet the Armitges. Their cart had been overturned in a mud hole and were very relieved at the two elders' arrival to their rescue. They spent the Sabbath at Figtree and after a journey of two days, they arrived at the mission. The Armitages rested for only a day and he was requested by the team at the mission to spearhead a building project as he was the only one that had bricklaying skills. After a short time, Armitage and his team had set up three brick houses, for the Tripps, the Andersons and for the Armitages who just arrived.
At the time of his arrival, there was a terrible malaria epidemic. Dr Carmichael succumbed to the fever on February 26th 1898 leaving most of the missionary workers gravely ill. Elder G.B Tripp was bed ridden too. John Ntaba, a teacher at the mission, Amy Sparrow and Chris Sparrow were all suffering from the fever leading the school to a standstill. Elder Tripp died in March 7th and was buried a short distance from Dr Carmichael's grave. George Tripp, elder Tripp's son, was the next victim of the sickness. He died on 2nd April when attempts to bring in Dr George Replogle from the Claremount Saniturium in South Africa to treat him failed.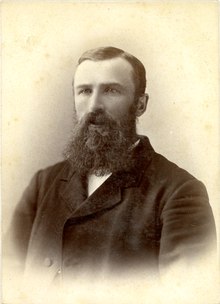 Ole Andre Olsen, Armitage's brother-in-law.
Mrs Tripp was also brought down by the fever and had to leave with Dr Replogle, accompanied by Mrs Anderson to Capetown where she made a steady recovery. Elder F.B Armitage and his wife who remained at the mission were also attacked by the fever with Elder Armitages fever raising his body temperatures to soaring heights. Despite the grave illness, Armitage responded to medicine and recovered from his illness. At his recovery, he decide to leave the mission with his child and wife. Unfortunately, Mrs Armitage's condition worsened on their way away and was rushed to a nursing hospital at Kimberly where she died. After this death, John Ntaba too passed and the mission remained a lonely place for the Andersons who remained to work until another party of missionary was sent to replace the departed souls. These new ministers included Elder Melvin C. Studervant, Elder F.L Mead, Elder W.C Walston and their wives and other helpers like Miss Hiva Starr and J.A Chaney. On February 22nd 1899 Elder F.B Armitage and Mary Caroline Mortensen Armitage, Elder G.B Tripp's widow, were united in marriage in Bulawayo.
Armitage and his wife, formerly Mrs Tripp, set out on a wagon and ten oxen and trekked 150 miles north east. With 8 pupils brought from Solusi, they set up the Somabula Mission ,currently the Lower Gwelo Mission.They worked at Somabula for three years where they baptized a number of natives. The school soon grew to a membership of up to 40. On account of failing health due to the repeated fever attacks at Rhodesia, the Armitages were replaced at Somabula by Elder and Mrs W. C Walston. W.S Hyatt also organised the Somabula Mission church founded by the Armitages. It consisted of 19 members. In South Africa, the Armitages served in the Maranatha mission and set up other missionary projects in the Union of South Africa including opening up work at Spion Kop Mission in Natal.
In 1925, the Armitages were invalided home due to their declining state of health, but the Elder spent almost another decade serving in the United State's North and Central Carolina. The couple retired and lived near Paradise Valley Sanitarium in 1934 . Mrs Armitage died in 1950 12th April and two years later, her husband, Elder F.B Armitage was also laid to rest.