David Elie Delhove
Born on June 9th 1882 in Marchienne Docherie, French Belgium to Josephine Chislaine and Jean Francoise Delhove, David Elie Delhove was the 4th born of 9 children. His primary education started at the age of 7 and he joined high school in Jumet, a town some ten miles away from home.  He earned some money as an apprentice in a workshop and enrolled for a six month course ins shoe repair. He had barely started his own shoe repair shop when he was called up to the Belgian military. After twenty months of service , he returned to rural Belgium and to his shoe repairing shop sometimes making new shoes too.
At age seventeen his family received a box from Canada , sent by a distant relative. Tucked in the parcel were some tracts printed by Seventh Day Adventists.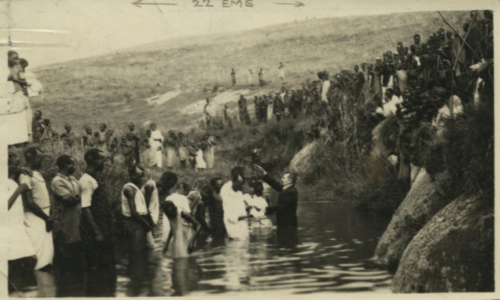 Delhove baptising converts at Gitwe Mission, Rwanda.
Elie read them with interest. After his military service he learnt of meetings being held at Liege, some 66 miles from his home. the meetings , conducted by Joseph Curdy, an evangelis from Switzerland , thrilled him more and more. In 1906 he was baptized in the Seventh-day Adventist church by Elder J. Curdy. He was 24 years old.
In 1913 D. E Delhove sailed for Africa. He had been assigned to go with A.A Carscallen, an Adventist missionary in British East Africa. Carscallen had several years of  mission experience, so with the new recruit, they proceeded to the site of Kamagambo mission 14 miles south of Kisii, British Africa. There they begun the buildings for the mission station and school.
His next assignment was to the Belgian command. There at Rushutru, a government command post just over the border from Ruand-Urundi and North of Lake Kivu (in the Belgian Congo). He was assigned the position of District Commissioner. In addition to being a recruiter for the army and procurer for food, medicine, porters and all sorts of supplies, he even became the local government agent, police chief and tax collector.
Fromm lake Kivu, the Delhove family made a short trip to Rubengera, a former German-Protestant mission four miles from the lake. The Belgian national in charge of military post had been installed during the last year of war and occupied the mission. he received orders from his superiors to share the building and area with missionary newcomers. Delhove carried a letter that he received from the Royal Belgian Commissioner at Kigoma when stopping there. It opened the way wherever he went. He and a friend, Monnier opened a school at Rubengera and the native Christians who had been trained by German missionaries gladly attended.
A second station, Kirinda , seven hours march inland from Rubengera was reopened in the latter part of 1919. The Delhoves went there, leaving the Monniers at Rubengera for several weeks. Delhove continued at Kirinda with bible study and introducing Seventh-day Adventist belief such as keeping the Sabbath instead of Sunday, not smoking tobacco , non-use of alcoholic beverages ,paying tithe , etc. He restored physical parts of the mission such as repairing houses, planting trees as well as caring for the numerous fruit trees planted by the former missionaries.